Donate on EA Blog - Introducing A New Feature
Marketing
In order to develop the FXCE ecosystem, we always want to promote valuable contributions from EA builders. Therefore, we are pleased to announce that FXCE will update a new feature "Donate EA Blog". This might be considered a worthy reward for excellent articles that have benefited the FXCE community.
So what does "Donate" button on EA Blog mean? Let's find out below.
Social Network - Introduce "Donate" Feature on  EA Blog
Donate is the latest feature that FXCE will integrate into the EA Blog system. With this feature, users can donate to any of their favorite articles, and all that donations will belong to the article's owner. FXCE will take the lead in donating (unlimited) to reward these contributions.
Donate feature at EA Blog will be similar to traditional Donate. In particular, you will receive a reward of FXCE tokens Donated for good articles and content (shares) about EA.
EA Developers will share content, and introduce the EA (backtested) to the FXCE Investor community. This will promote a creative and quality EA community. 
For example, join a Livestream program and donate $50 to a person. That means you have supported them because of the creative and engaging content they bring. It is the same with our "Donate" feature on EA Blog. 
Benefits of Donate Feature on EA Blog
EA is configured by GigaFactory and the article will be sent to the EA team for review. EA creators will be able to enjoy a lot of benefits when their EA posts are made public.
Giga Collection Program 
Our EA Team will check your content, evaluate EA quality (configured by GigaFactory), and consider approving. This is a great advantage as the owner of the article will receive 5 FXCE Donate Coins (equivalent to 1000 $FXCE). 
Extra Donate from users in the ecosystem. 

Get rewarded based on interactions from the FXCE Social Network platform in the future.

The benefit that EA creators are interested in, such as: 

A blogpost on top of FXCE EA Blog 

Copyright reserved

Priority support for coding Indicator as required.
The process 
Are you interested in appearing on the FXCE blog as an EA creator? Follow steps below! 
Configure EA by Giga and write a description according to the specified structure.

Send to FXCE EA Team via email: [email protected].

EA team check and approve, then publish article on the website.

Get Donate from FXCE and readers.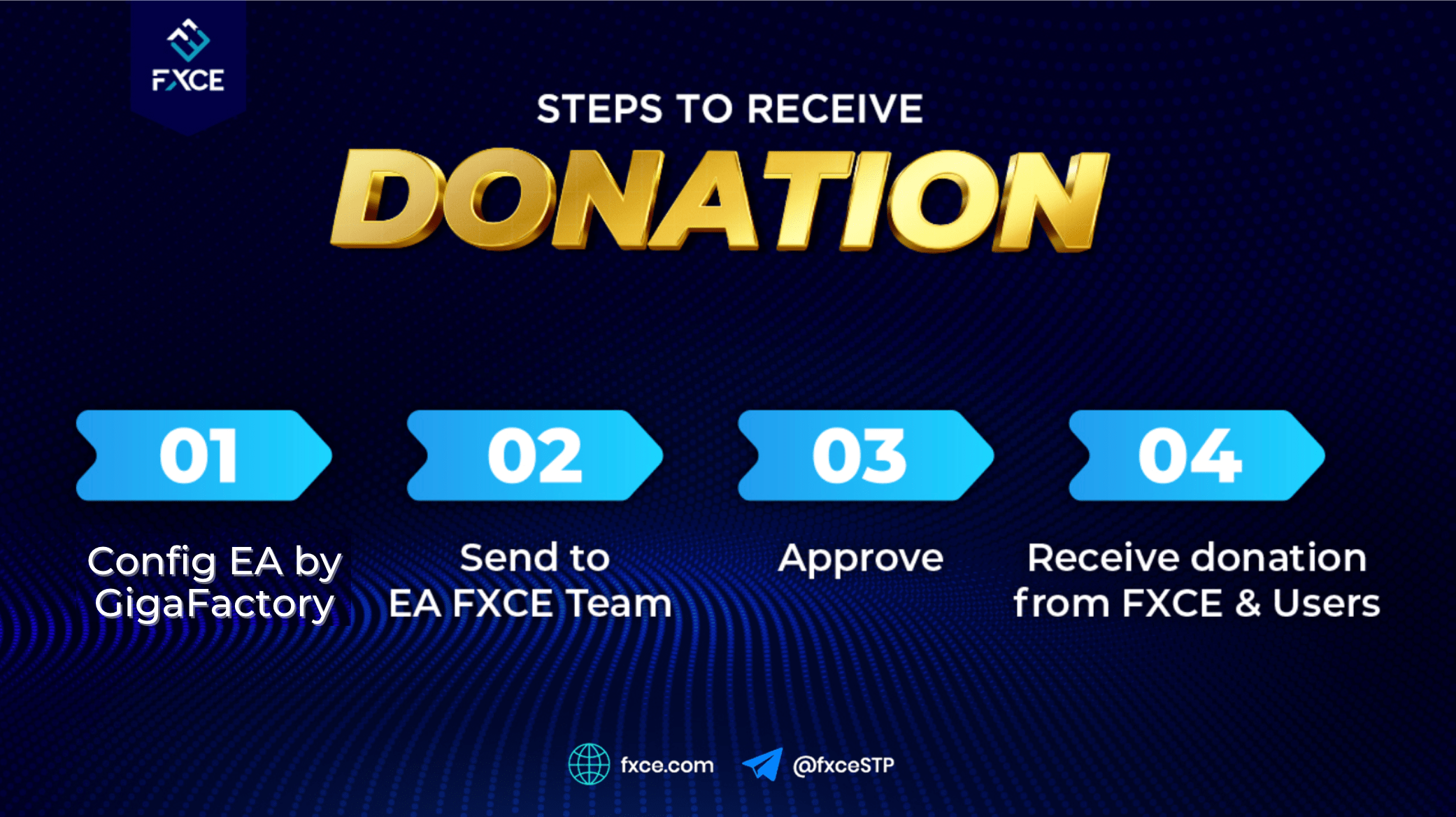 *** How to submit an EA request => Here
The conditions
The author ensures the EA has been configured by GigaFactory and passed the backtest. Write a detailed introduction to your EA as well as a result evaluation after the backtest. Finally, send it to FXCE EA Team for approval to publish and receive Donate.
The backtest results must meet the evaluation criteria including:
Time to make profit exceed the drawdown: 1/[(Total Net Profit / Number of Backtest Months) / EDD)]

History Quality 99%

Profit Factor 1.5

Equity Drawdown ≤ 15%
These conditions and the reward will make the creation of EA more interesting. This challenge is engaging and worth considering, isn't it?
Note: 
EA is configured by FXCE GigaFactory. 

Early submissions will be prioritized for review.

For each successful post, the author will receive our donation of 5 FXCE Coins (Equivalent to 1000 FXCE Tokens).

FXCE will not review EA articles with duplicate features, or the same trading method.

In all cases, FXCE's decision will be final.
A stepforward of FXCE Ecosystem with Social Network 
FXCE Social Network is one of the core elements that make the ecosystem completely different and diverse. For this reason, FXCE officially launched 3 blogs and with combine "Donate" feature for EA Blog first.
FXCE BLOG: Introducing FXCE Products, Financial Market Knowledge, Events/Contests at FXCE.

CRYPTO BLOG: Updating news, reports related to Crypto or some basic knowledge.

EA BLOG: Including EA library, detailing how to set up and personalize EA to apply to your own trading process.
The short-term purpose of the Donate feature is to encourage the community to create and share EA. In the long term, we take advantage of Donate Feature as one of the premises to expand interaction and connection with the orientation of a complete Social Network for the financial ecosystem.
As mentioned many times, we do not establish any public/private sale of FXCE Token. All tokens are rewarded to users who positively contribute to the ecosystem. Donate is a feature that makes it real, for quality content contributions. 
Conclusion
FXCE is well-known for comprehensive financial technology solutions that are open for millions of traders. So far, the FXCE ecosystem has always been innovating expanding, and providing critical value to users.
Donate Feature for Blog EA sets the future FXCE Social Network apart. And last but not least, we encourage EA Developers to continue contributing their EAs, toward a sustainable EA community.
Send your EA via email: [email protected] to receive a Donate!
Comment