EA | Next Trading Gen 2023
Marketing
EA | Next Trading Gen 2023
Contest Overview
Kick-off April with the first EA-exclusive competition at FXCE Arena. As a leading provider of automated trading technology, FXCE is pleased to present a large-scale contest to the global EA community.
Welcome to the EA Arena exclusive at FXCE!
Competition size
Scope of Organization: The contest is held on FXCE Arena, open to all registrants and an unlimited number of registered accounts/users.
Participants: The community of traders, who have been using EAs or want to automate their systems with EAs, have a chance to compete.
How to Participate
How to register
Register directly here at the contest homepage on FXCE Arena. Start preparing EA now and stay tuned!
Registration Time
There is no deadline for registration, from the announcement of the registration page to the end of the contest. However, the Forex market always needs you to be ready to seize opportunities and accumulate for the long term. We still recommend that you have your EA prepared to start participating as soon as possible.
Timeline
The contest will start on April 3, 2023, and end on June 30, 2023. (within 3 months)
General rules
Participating accounts
Select FXCE Live or Cent account option in line with EA's trading strategy.
Condition
Trade with 100% EA

Traders can close the orders manually

No Balance regulations

Unlimited use of externally purchased EA

Do not use EA CopyTrade

Trader's Guard:

Terms Settings: Risk up to 2%

Handling Violation: Lock account for 4 hours
Eligibility Note
Traders will be disqualified from the contest if any of the following behaviors are observed:
Manual entry or EA with a semi-auto mechanism

All-in trading and not following risk management

Using EA from Giga Collection (If EA is not your own)

Using EA CopyTrade
In addition, Hedge trading, Arbitrage, any form of price error exploitation, or abnormal profits are prohibited.
*The Organizer reserves the right, in its sole discretion, to disqualify any contestant upon detection or suspicion of committing any of the above violations or exploitations without prior notice. In all cases, the decision of the organizers is final.
Prize Rules
Judging Criteria
Eligible accounts will be ranked according to Capital Growth (%). 
The amount of balance and the type of account do not affect the final ranking.
Prize structure
When the contest ends, the Top 3 traders by Capital Growth will get: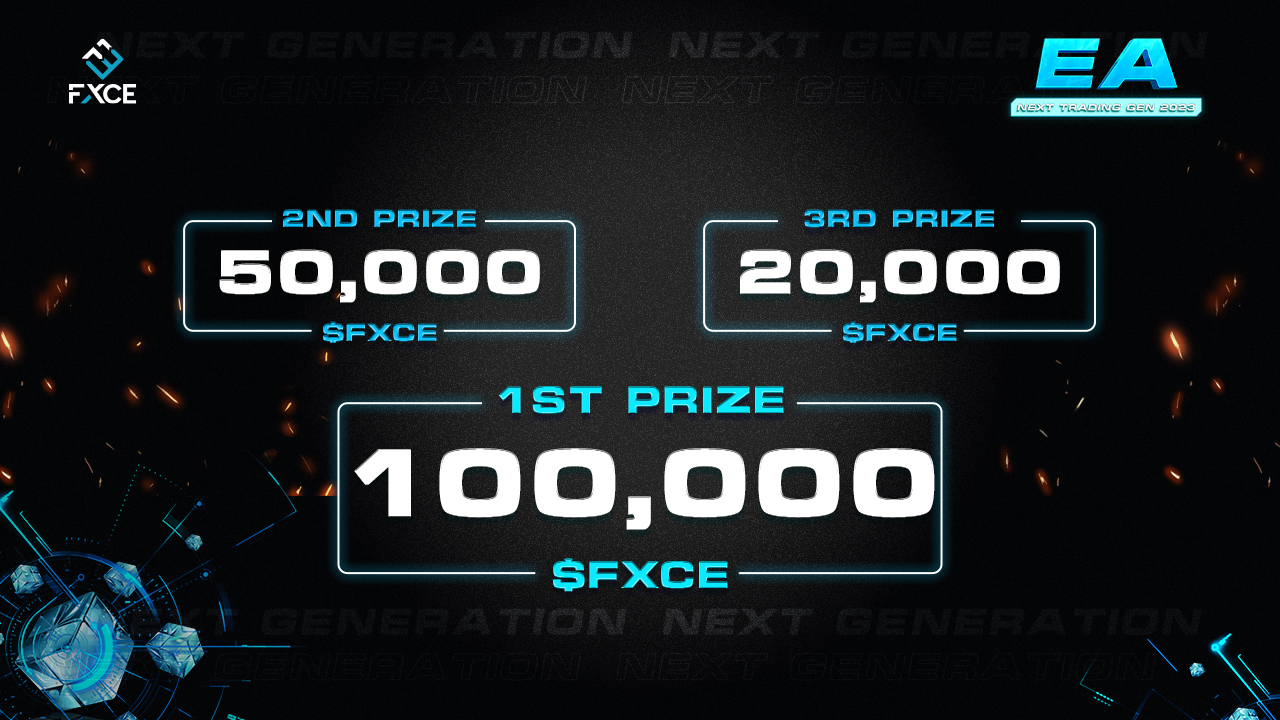 First Prize: 100,000 $FXCE
Second Prize: 50,000 $FXCE
Third Prize: 20,000 $FXCE
To accompany the contest
At the forefront of Forex automated trading, FXCE has continuously provided documentation and tools to support the EA development community. In Addition, it is mentioned in the library of nearly 500 EAs and automatic indicators or FXCE Giga - a tool to create EAs without code.
During this competition, we will continue to develop, update, train, and support the EA. The creation and use will be simplified even if you are not a programming expert.
As usual, FXCE Direct always keeps an eye on every talented trader inside and outside the competition. Contest accounts will be monitored so closely that they make accessing FXCE funding and investment easier than any other account.
Wishing you great success in this contest!
Comment