What is the Direct account? How to get funded from FXCE Direct?
Marketing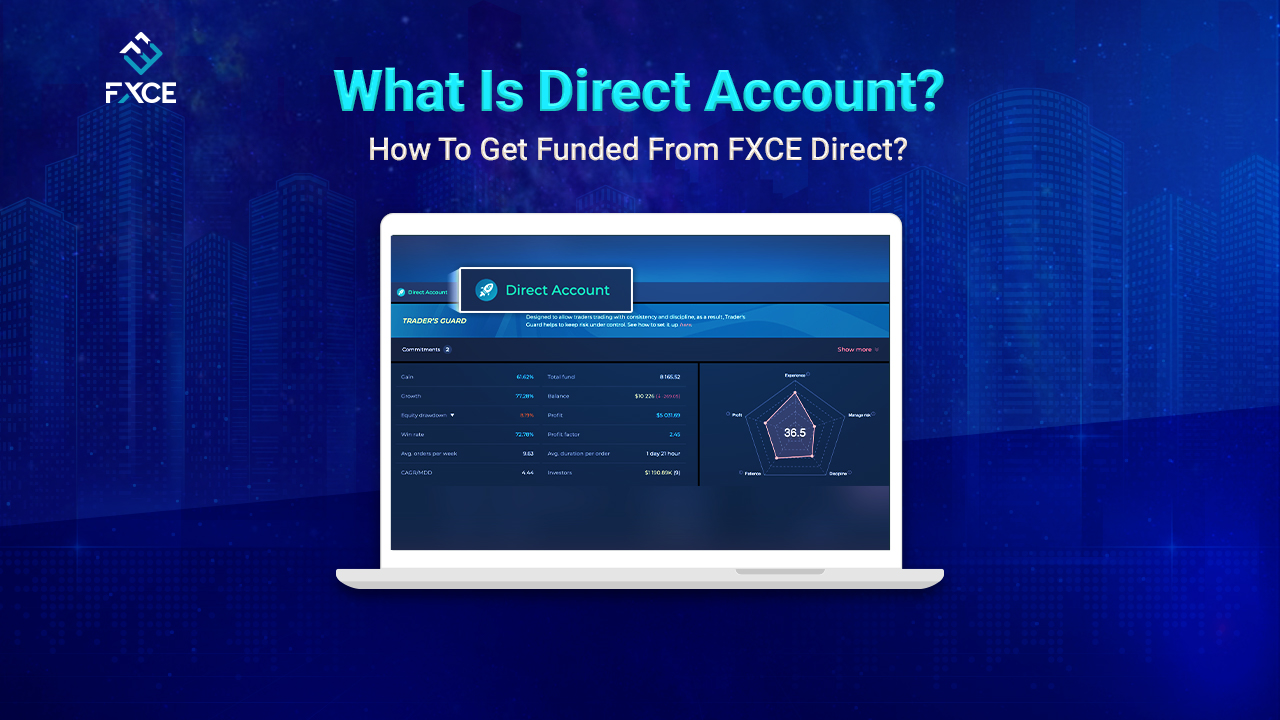 The Direct account is a common account on FXCE. This account type is 100% funded by FXCE Direct. To get this account, you need to meet the fund conditions without paying any fee. Especially, you can get unlimited investment up to millions of dollars after passing these funding rounds.
So, what is a Direct account? What are the criteria to get this account? Let's learn more through the article below!
What is the Direct account?
The Direct Account is a type of account that FXCE will provide to traders as meeting the funding requirements of the program. The initial fund allocated to the Direct account is $2,000. After that, we will review to increase to $10,000 after 3 months if the account is profitable.
With a Direct account, fixed leverage is set at 1:30. Trading with high leverage, especially with newbies, will increase the risk of the fund. In addition, the Direct account also allows you to set Trader's Guard to help you adhere to the rules while trading. So this is considered one of the benefits in terms of ensuring the safety of your fund.
In addition, when participating in FXCE Direct, you will not pay any fees. Especially, for a Direct account, when the trade is profitable, you will receive 20% of the profit.
How to get funded from FXCE Direct
After nearly 3 years of operation, FXCE Direct Fund has achieved many outstanding achievements and developed new investment mechanisms. 
As of October 2022, the FXCE Direct Fund had funded 815 accounts with a total funding of $5,180,683.
Many traders have gotten funded and huge investments through this program. In particular, there have been accounts that have received an investment of more than $1,000,000. Absolutely awesome!
More excellent traders, here.
If you also want to be the next one to get funded through the Direct account, see details in this section. These will be ways to help you conquer attractive investments from FXCE Direct.
Conditions to get Direct account
The first thing to be eligible for the program, you need to pass the following requirements:
Requirements of funding
FXCE Score > 25

Be profitable

Trading for over 3 months
Conditions for participation
Maximum of 6 Demo Pro accounts

No fees required

No need to install Trader's Guard (TG)
Funding Process
For Demo Accounts
To help new users have a good experience, we have added an auto-funding feature specifically for Demo accounts. To receive automatic funding on the Demo account page, follow these steps.
Process of getting funded
Step 1: Visit the FXCE account page, click on the "Demo account" 
Step 2: Click "New Demo Direct Account" and set up your trading plan
Step 3: Confirm to complete and have account information sent to your email. 
Step 4:  Start trading with this account to meet our conditions
Step 5: When it is eligible, you will get a funded account from FXCE 
For Cent and Live accounts
Step 1: Meet the conditions of FXCE Direct
Step 2: Send funding request to the program at email address [email protected], with the following content:
Link Demo account (public)

Have you done KYC (identify identity)? 

Username on telegram 

Do you want to move your trading history from the Demo account to the Direct account?
Step 3: Approval within 24 hours of your funding request
Introduce about FXCE Direct
Overview of FXCE Direct
The FXCE Direct is a funding and investment program for potential traders. Whether you are a newbie or a longtime member of the FXCE community, there is an opportunity to get funded. This means that everyone has the ability to receive funding from FXCE Direct when participating in trading at FXCE. Opportunities are shared equally for everyone.
FXCE will help you build a complete trading plan and provide the capital you need to trade in the best possible light. Difficulties in the capital will no longer be your big barrier. You can only reach your fullest potential when your faith is strengthened. Achieving your new goals and peaks in the Forex market.
Benefits of joining the FXCE Direct 
Public/transparent trading data: Your profile will be known and more interested by the investor community in the ecosystem. From there, you can get unlimited funds from big investors. In addition, information about profit sharing time is also updated in detail on your profile.
Automated Funding Registration System: FXCE is continually developing to enhance the user experience. You can completely register for automatic funding by creating a Demo Direct account to save more time. Therefore, new traders who want to join FXCE Direct will no longer have to worry about funding approval.
Create a Demo Direct account here.
Unlimited on total investment: Basically, FXCE provides a minimum capital of $2,000, then increases to $10,000. Passing these funding rounds, traders continue to be invested in the form of copytrade with a minimum of $100,000. Increasing by $100,000 for each following round and unlimited total investment.
Who can get funded from FXCE Direct?
The new traders at FXCE
We understand the emotion of beginners when entering the Forex market. They have many emotions of anxiety and lack of confidence. Because you are not ready to deposit and trade comfortably. However, don't worry too much about this. The FXCE Direct will be your companion on your difficult journey.
You will fully receive funds through the Direct account when trading with the FXCE Demo-Pro account for 3 months and making profits. This is really a "rare hard to find" opportunity when you can try simulated trading with a Demo account but still get funded from FXCE. It's worth the experience, isn't it?
Experienced traders in other exchanges
If you are a new member of the FXCE community but already have trading experience, can you get funded with a Direct account? The answer is absolutely possible. We have the utmost respect and support for every trader who has the passion and good trading skills to be a part of the FXCE Direct community.
The conditions to get funded through a Direct account are also extremely simple. If you have a trading history on any exchange that meets the criteria below, we will get funded for you.
Equity drawdown (EDD) < 15%

Trading experience over 6 months

Be profitable
In the nutshell, whether you are a new member, a beginner in trading or someone with experience trading at another exchange, there is an opportunity to get funded from us. FXCE is always ready to welcome new members who are passionate about conquering big goals in the Forex market.
Opportunity to get unlimited investment 
After meeting the requirements of the FXCE Direct, we will enter the new stage - the Investment round. The fund account must be profitable. Traders will receive a minimum investment of $100,000 through Copytrade and a 20% profit share (if applicable).
Furthermore, to receive unlimited investment from FXCE Direct, you need to be profitable every 3 months. Many traders have already received million-dollar investments in this program. Do you want to be the next one? This is a good chance to make it real. Register a Demo Direct account, next receive a funding account (Direct account), and finally get unlimited investment. You can do it!
Conclusion 
Hopefully, through this article, you will have an overview of what a Direct account is and how to get it. Start your new trading journey, and get funded through the Direct account to get an UNLIMITED investment from FXCE.
The opportunity starts today. Register for a Direct account now and experience the special benefits of it! Wishing you a successful trading journey!

Comment