EA FOREX - LEADING THE ERA OF AUTOMATED TRADING 2023
Marketing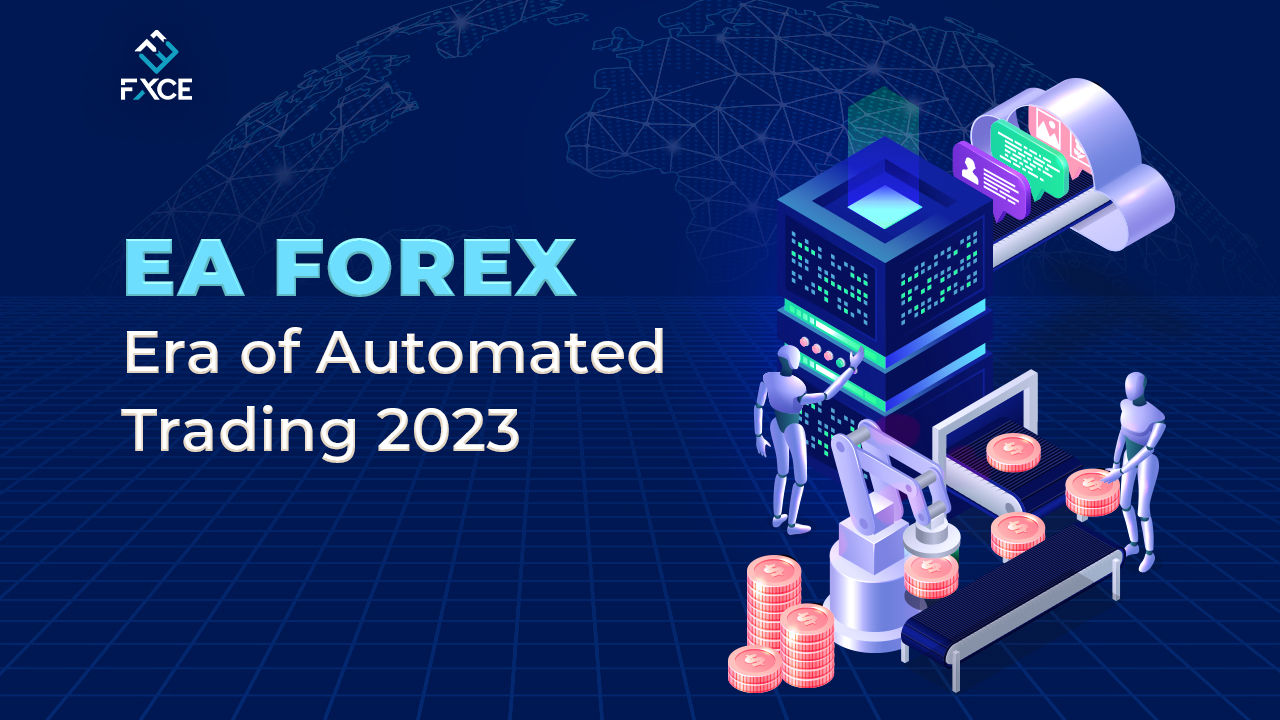 In recent years, the size of the Forex market has been constantly expanding. This attracts many investors and traders to the market and makes the Forex market more vibrant than ever.
Not only that, the trading methods and trading strategies of traders always bring a certain variety. Traders always aspire to achieve the goal of optimal profit, no matter how harsh the market is.
Therefore, an Expert Advisor (also known as EA Forex) trading strategy is probably a new concept compared to a novice. Nevertheless, this is arguably one of the trading strategies that you should not ignore in 2023.
Let's find out what is EA Forex. Will EA Forex be a new era in 2023?
Learning about EA Forex 
Trading on the Forex market never seems to run smoothly but also brings a lot of pressure. Traders therefore often make the wrong decisions, which negatively affect trading. A useful solution to get rid of this problem is to use an Expert Advisor (also known as an EA Forex).
Let's learn EA Forex in depth with FXCE right now.
What is EA Forex?
You can search on the internet, there are a lot of definitions of EA Forex. In a way, EA Forex is an automated Forex trading system. In MetaTrader, they are written in MetaQuotes Language 4 and MetaQuotes Language 5 and are developed for use on MT4 and MT5 platforms.
The EA Forex is programmed to automatically generate trading signals and send alerts to traders about trading opportunities. An EA Forex always follows very strict regulations and without any human intervention.
How the EA Forex works
The EA Forex will be based on the previously established parameters. The system will always automatically research all the opportunities to execute trades. After seeing positive signals in the market or when there are major opportunities. The EA Forex will seize that opportunity and return the profit to the account holder.
The EA Forex allows programming to operate in a variety of ways.
For example: Select technical indicators such as moving averages (MA) or indicators (MACD). In addition, there are also indicators that look for trends and breakouts when needed.
Some EAs Forex is designed to be in full control of your account. That EA will review the current account balance before deciding whether or not to execute a trade. The general rule of thumb is to risk only 1-2% of the Trader's account balance.
Is an automated EA Forex different from a semi-automatic EA Forex?
Similar to the EA Forex automated trading system. Semi-automatic EA Forex is a program that works to identify patterns in the market and generate trading signals. However, unlike semi-automatic EA Forex, automated EA Forex can trade on behalf of investors.
The fully automatic EA executes orders as soon as trading conditions and rules are satisfied without informing the trader.

The semi-automatic EA detects the signal and calculates the parameters (entry point, stop loss, take profit, etc.) for the trade, based on the strategy set and then reports to the trader, Whether or not to follow is the trader's decision.
Automated and semi-automatic EA Forex have many similarities - The same type of automated trading software. The main difference between automated and semi-automatic EA Forex is that the semi-automatic EA will generate "signals" while the automated EA will execute trades without any manual authorization.
However, the terms are still often used interchangeably, meaning that EA Forex is more likely to perform the purpose of generating the initial trading signals. As with any automated software, both reduce the chances of making emotional and irrational trading decisions. This is a common problem for inexperienced traders.
Who is EA Forex trading for?
EAs Forex are suitable for everyone: from amateur to professional. Therefore, EA Forex also has a variety of ways to design or arrange trading strategies suitable for each individual - organization:
Expert Advisor News - Taking advantage of various news events, major price moves can take place in times of important news.

Expert Advisor Breakout - Specially designed to open trades when prices break through predetermined resistance and support levels.

Hedge Expert Advisor - Minimize losses in one position while increasing profits in another.

Expert Advisor Scalper - The goal is to secure small profits. This trading bot (EA) will open and close any profitable trades and can trade up to 400-500 times a day depending on market conditions.
And there are even more strategies than that…!
It can be seen that EA Forex is an automated trading platform for all traders from Retail to institutional level (small scale) such as Investment Funds. The difference here lies solely in the experience of using EAs and the approach to strategies.
The features of EA Forex
Nearly the entire EA plays a role in automating every process in Forex trading and brings profits. Each EA Forex has the ability to calculate dozens of different factors to help traders make faster and more accurate decisions.
Which must be mentioned as factors affecting prices, trading rules automatically remove emotions. This will bring a pretty useful combination and bring a certain success.
Expert Advisor - EA Forex allows traders to search for signals, and monitor and monitor orders automatically, quickly and efficiently. Traders do not need to spend too much time tracking real-time.
Some of the key features of Expert Advisor include:
Open trades automatically: Traders/ Investors only need to follow the Forex EAs that have been set up parameters. Transactions will be executed automatically without any manual intervention.

Manage Open Positions: Positions including trading volume, trading pairs, and trading timeframes will be closely monitored by the EA Forex.

Exit automated trading: Some Forex EAs will automatically exit positions (close) when the market is about to fall into a period of critical News.

Average execution of prices (DCA) or Martingale: Automatic DCA and Martingale are of the strategies that promote profits by EAs without the need for intervention by the trader.

Copy Trading: Widely used EA on Social Trading Platforms, and allows copy trading.

Automated trading 24/7: Allows EAs to execute automated trades in certain markets that require non-stop operation.
Advantages and Disadvantages of Forex EA
However, there are a lot of controversies among experts about the use of EAs in trading. Let's identify the pros and cons of using an EA in the Forex market.
The benefits:
Expert Advisor will always be active 24/24: That means the EA will automatically monitor and seize opportunities as soon as the signal appears on every product pair.

Overcoming Emotional Barriers: The EA will help traders overcome barriers in trading psychology. The investment strategies that have been previously established will be maintained and will accompany the traders along the way.

Saving a lot of time: Traders do not necessarily have to follow Charts, trading products, and continuous price patterns.

Better capital management: This is the strongest point when traders do not need to monitor the Decline of the account constantly. The parameters of capital management will be applied throughout, helping to increase the winning rate, and minimize the probability of "account burn".

The opportunity to use EAs according to strategies: A new approach and experience sharing to the FXCE Social Trading community. Getting support and accompanying the Expert Advisor Dev Team with many years of experience.

Test the effectiveness in the real market so as to find the best setup solution.

Allowed to use Forex EAs together Create a variety of trading styles: Scalping, IntraDay Trading, and Plow Volume,…
Other benefits:
In addition to the above advantages, you will receive more benefits when participating in the FXCE Giga EA community:
Instructions and support for setting up EA without code

Free VPS Sponsored

Free access to the EA Library with over 300 Indicators and EAs

EA Community-specific programs: EA Contest, EA Contribution to receive valuable rewards from FXCE and the community.
The Drawbacks:
Besides, we also notice the disadvantages such as: It is difficult to verify the accuracy of an EA unless you are the one using it. The following are some of the possible situations that may occur during the use of the Forex EA:
VPS crashes have a massive effect on the EA, which can lead to unnecessary losses.

Backtest results are not as expected when applying the EA to the Demo Account. This will lead to many errors when applying to the Live account.

The Expert Advisor customization of MetaTrader 4 or 5 too many times makes it impossible to display stable profits on the demo account.

EA lacks creative thinking: it cannot imagine what might happen in the future because it is already limited by the rules programmed initially. Moreover, only humans can follow, study and update the news in the most profound and intuitive way, so EA's functions are also affected by misinformation.
Some notes when using Forex EA on the platform:
Although traders can use multiple Forex EAs on the MetaTrader Client Terminal. However, it should be noted that not all Expert Admirals are "cooperating" on a Terminal. The reason is that Expert Advisors try to handle each other's open trades. Programmers often solve problems by applying for special code numbers.
However, there are still many limitations on the platform. For example, an Expert Advisor in MetaTrader can only work with one trading server at a time. Multiple EAs displaying multiple operations on the same terminal and communicating with the same server will cause a 'trade context busy' error in the transaction log. This happens when you have too many EAs on one Client Terminal.
Things that you should consider when trading Forex EAs
When it comes to finding the suitable EA for you, there are several points you need to consider – Before deciding to use a Forex EA instead of a Trader.
They're not always true experts – If you're looking at a product that claims to be better than a Trader, or one that promises millions of pounds in profit, it's probably too good to be true. Always be serious about finding the right EA for you just like any investment.

More simple to look for objective reviews, and check how they perform compared to other EAs. And, in the real market, also seek advice from established or honoured traders. Some EAs are known to be scams, and you will lose a lot of money in trading these EAs. Therefore, you will need to perform due diligence before investing.

They are not human beings – Although this software reduces the emotional element. Less interaction with humans can mean that software can't react quickly to changing situations and is inflexible. This is a problem that can sometimes be solved by changing the code and parameters of the software. But in the meantime, it can lead to failed transactions.

Is your EA always connected? Unfortunately, the EA can only run on a device to which it is linked in the first place. This means that unless that device is constantly on and connected not only to the internet but also to the trading platform, the monitoring and trading signals will be unreliable.

Power outages and Wi-Fi connections can disrupt service – To improve your connectivity, you can download a Virtual Private Server (VPS) that allows you to have an EA version online. The data is stored on an external server so that this version can run around the clock.
Things to know before setting up an EA Forex 
If you want to install and use the EA, hopefully below will give you some useful tips. You can use the Expert advisor generator (which allows traders to enter the parameters of selected trades and the EA Forex Program generator) or the FXCE Giga platform (EA programming platform developed by the FXCE team)
Check the importance of the data
First, be wary of the reliability of the results from the backtest. You think good backtest results show that the system is likely to be highly profitable - that may not be so simple. You can backtest with a demo account, but that doesn't mean it will perform well on a live account. Be careful!
The results that the EA brings will depend on the quality of data that the backtest obtained, inaccurate data can lead to unreliable results. The default data in MT4 and MT5 can only achieve a model quality of up to 90%. While the data is positive, this can cause significant differences in backtesting and real-world experience, especially on smaller timeframes.
The advantage is that past data sources allow free access and provide instructions on how to prepare the necessary data for MetaTrader.
Understand the speed of the trader's entry
Reliable data is the first step in adjusting the EA Forex to trade on a real account. The next step is to improve the speed of entry.
MT4 and MT5 operate for a trading session duration of 30 seconds. If you are using an EA Forex, your session will automatically run out of time if there is no trading activity within the time period stated above. This requires the IP address to be automatically re-validated with a password and log in.
This can take some time, up to two or three seconds depending on the broker. It may not be a significant amount of time, but in times of high volatility, delays can have a significant impact on your trading results.
Debugging
Debugging codes on MetaTrader's Trade Bot is extremely difficult. Since MetaQuotes policy shows that they meet more needs of brokers than traders, you will find that the debugger is not on the list of available tools.
However, there are still several methods of trader support. For example, the method of entering print commands directly into the code, the disadvantage is very difficult to manage, especially if there are thousands of lines of code and you do not know where the problem is. You can download Microsoft DebugView to see the history of the formatting solution.
Test MetaTrader and EA Forex connection
Make sure to check the MetaTrader connection. The trader's platform must be enabled and connected directly to the broker in order to launch the Expert Advisor. Although MT4 and MT5 are designed to automatically reconnect to the server without any issues, this does not always work as expected.
If you have more than one MetaTrader account, sometimes there is a mistake in the login information during reconnection. The best solution is to delete unapplied accounts from the Navigation window in MT4/MT5. Although this is a minor issue, it can also be a nuisance if you are disconnected and the EA is not working continuously.
EA Forex - Embrace the Era of Automated Trading 2023
From the above useful information, it is hoped that the EA Forex will bring a new era to Forex traders in the future. Let's take a look at the opportunities ahead with EA Forex to welcome the beginning of 2023!
Investment Opportunities - ETF Management
To embrace the value that Forex EA's bring. FXCE opens up a comprehensive EA development environment for EA Creators, EA Traders, and Professional Fund Managers.
FXCE Giga is one of the key solutions being favoured by EA creators. In addition, to introduce and bring quality EAs to investors, traders combine with the FXCE Trading Analysis platform. The statistics show that EA (Master) traders have delivered the best returns ever and brought in huge investments (up to $1 million) from FXCE Direct.
You can discover the featured Master EAs here: https://www.fxce.com/top-traders
On the other hand, it opens up opportunities for talented fund managers. FXCE has also officially launched the CopyTrading Star Contest, accompanied by elite fund managers (Started October 16, 2022).
The contest is aimed at finding talented ETF managers in the future. An environment where professional Fund Managers will make the most of the features that EA Forex offer.
Opportunity to participate in global competitions
For EA Forex traders, choosing an EA/ Indicator is one of the best solutions in terms of time. The most important is that the EA needs to be Backtested very thoroughly to achieve the best effect. Then applying to the Global Contest without having to spend time creating EA and Backtest from scratch.
More than 300 EA and Indi libraries are available at FXCE Giga EA Library. You will easily find bright candidates, match your strategy and bring them to the Global Competitions. These include the 2022 Colloseum Contest with a prize of up to $35,900 and the 2022 CopyTrading Star, which were organized by FXCE.
Job opportunities
Talented EA creators will not stop at buying/ selling/ exchanging individual products on platforms. Moreover, job opportunities are always open to qualified, passionate and serious EA traders on the Forex market.
Some platforms recruit creative EA Forex programmers with attractive salaries and a variety of positions. You can learn on MQL5 Job to get more detailed information.
In addition, to obtain employment opportunities in this field. FXCE offers EA Setup Support Programs through the FXCE Giga Tutorials and Live Education.
***Learn more at => this article
FXCE has designed a set of documents from basic to an advanced overview of Giga features to make it easier for users to set up EAs. Lessons are divided into clarity levels, giving you an overview and early familiarization with the features of this EA.
Where to Learn Forex EA Programming?
FXCE Giga Live Training
The FXCE team offers you an offline training course to support users in programming EA through the FXCE Giga. Coming to this course, you will be equipped with all the knowledge to be able to set up and own your own EA. Coming to this course, you will be equipped with all the knowledge to be able to set up and own your EA. In particular, this course by FXCE is completely free to facilitate the FXCE trading community to be able to set up EAs from Giga in the best way.
EA Configuration Guide "1 to 1"
If you are unable to take the above Offline course, you will still receive support from FXCE through "1-on-1". You will be guided in great detail by a member of the EA FXCE Dev Team through Google Meet and this course will be completely free of charge.
In the course, you will learn how to set up your own EA using Giga from basic steps to backtesting. A lot of traders have configured the EA successfully and trading is stable in real conditions.
Course time: 20h00 (Monday - Friday) and 15h00 (Saturday)
Form: 1 to 1 via Google Meet
FXCE Giga Creates an Endless EA Forex Creation Environment
Huge EA Library at FXCE Giga
FXCE always helps the community to use technology to optimize trading strategies, and this is also a top priority. As such, FXCE has laid the foundation for funding, technology and expertise from programmers at FXCE and around the world.

Any trader can develop their own Expert Advisor through the Companion Program that creates Expert Advisors. Free access to FXCE Giga and FXCE EA Library.
FXCE builds its proprietary FXCE EA Library System. This library was created for communities in the ecosystem to have long-term access to this resource, along with the following advantages:
Easy to use with full instructions included

Fast execution, accuracy and no latency

Metaquote Optimization for MT5 Platform

Multiple options for selected specific features
The library features Risk Management, Capital Management tools, and more. Everyone has the opportunity to access and benefit from the hundreds of EAs and indicators available in the EA Library. This shares knowledge that is based on effective trading methods and strategies, including the following items:
FXCE Giga: This tool is designed and developed to facilitate traders to create an automated trading system (EA) without requiring programming knowledge.
Kazan: Focusing exclusively on Capital Management & Psychology – 02 factors that account for 90% of trading success. In addition to Kazan, EA Library also offers many other EAs and indicators on capital management and risk management.
Follow trend: The following trend EA focuses on finding profits based on the trend of the price.
Pullback: Adjust the settings on the trade to the market's retracement, before the price returns to the main trend.
Breakout: Trading with breakouts at key psychological milestones (resistance, support, candlestick patterns, price patterns, etc.)
…
There are many other interesting strategies waiting for you to discover! You can find out more information and knowledge about Expert Advisor for free at the FXCE EA Blog Homepage.
Telegram Community EA
The Telegram FXCE EA community serves as EA programming & inquiries support. With more than 1600 EA trading members, you will always get valuable help from the best EA programming team and EA Community at FXCE.
Join now: https://t.me/fxceea
In addition to the support from the EA community at FXCE, your contributions to the Giga FXCE Community will always be recognized and rewarded. From now on, through the Giga Collection Program, you will receive 5 FXCE Donates (worth $1000 FXCE) for your EA contributions.
***See details Donate Features and Giga Collection Program => This article!
Real EAs Trading Experience
The most important thing for an EA Forex Trader is the combination between theory and practice. From the EAs that have been set up before, there are free to participate in the real battle sessions that take place at YouTube FXCE Academy.
Hundreds of EA programming tutorials and EA battle sessions promise to bring a lot of emotions to the EA Trader.
Some typical EA Forex configured using FXCE Giga
Giga-Gold-M5 | DCA Gold on M5 by Candles and Bollinger Bands
About this EA Forex
Giga-Gold-M5 is configured on GigaFactory by solovely member (Telegram: @Anh219) of FXCE - EA community based on the characteristics of Candles and Bollinger Bands indicator.
The formation of the two candlesticks closest to the Bollinger Bands creates an entry signal and proceeds DCA on a 1.8 multiplier if the price moves in the opposite direction.
You can follow the Giga-Gold-M5 trading results in real conditions on the FXCE Social Trading Platform here.
***View Backtest Results Details = > Article
Host Timing - DCA AUDNZD by DaytimeTrading and AKTRSignal
About this EA Forex
Host Timing is configured on GigaFactory by member Tuan Nguyen (Telegram: @TN5590) of FXCE - EA community based on two indicators DaytimeTrading and AKTRSignal.
The EA Forex will only trade at certain times of the week as specified by DaytimeTrading with a Buy/Sell signal from AKTR Signal.
You can follow Host Timing's trading results in real conditions on the FXCE Social Trading Platform here.
***View Backtest Results Details = > Article
A3C-AN - Trade AUDNZD using Engulfing
About this EA Forex
A3C-AN is shared by member Le Thanh Cong (Telegram: @LTCong) of FXCE EA community.
A3C-AN trades DCA based on the idea of taking advantage of the short waves of the AUDNZD currency pair (also known as Aussie/Kiwi). EA only uses Engulfing candlesticks under strict conditions in each candlestick.
AUDNZD is a currency pair that is less susceptible to major economic and financial events and tends to last long enough to be suitable for DCA trading.
EA configured on GigaFactory backtested between January 1, 2020 - November 2, 2022, with a positive result when it brought a profit after 34 months of $1879.67 nearly 9 times compared to the largest decline of $211.02.
***View Backtest Results Details = > Article
BomIT - V1 - Trade Price Action with Koala Trend Line
About this EA Forex
BomIT-V1 is configured on GigaFactory by member Kim Dinh Bien (Telegram: @bomit) of FXCE - EA community based on Koala Trend Line indicator on MQL5 forum.
This is the result of the Koala Trend Line's ability to determine the bottom and top as well as the unlimited combination of all indicators of GigaFactory.
***View Backtest Results Details = > Article
Summary
Will EA Forex be a new era in 2023? This will depend on the level of application of the EA Forex in the market, and each trader's strategy. However, with the benefits that EAs bring, traders can consider and choose the right EA and Indicator for themselves.
Please keep in mind that no method is perfect, only traders can see and make the best use of the best values. Fortunately, FXCE is always willing to assist and knows how to help EA traders regardless of market conditions.
Join FXCE's official media channels to get the latest updates:
| Facebook | Youtube | Telegram STP VN | FXCE Academy |
Comment