Create EA DCA by FXCE Giga
Marketing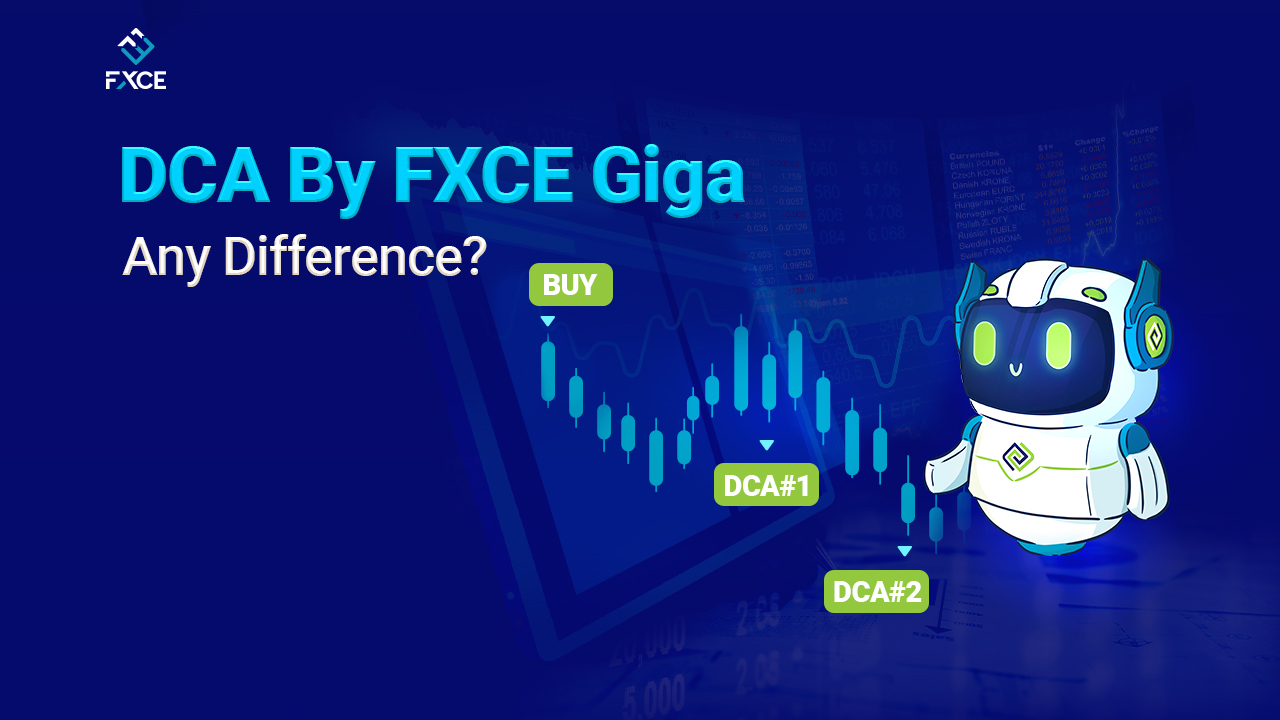 FXCE Giga is a tool that allows traders to build creative EAs that adapt their own approaches. In particular, trading EA DCA by FXCE Giga is one of the EAs that many traders are interested in. If you are also trading according to the DCA method, you can read this blog.
Related blogs about FXCE Giga:
What is the DCA Strategy? 
The DCA (Dollar Cost Averaging) strategy is a financial investment method. With this strategy, you will place buy or sell orders into the market for a certain amount over a certain period of time, usually weekly or monthly. DCA is used in Forex to help lower risk and prevent buying too expensive or selling too cheaply.
For example, if you apply the DCA strategy to the Forex market with an amount of 100 USD every week, you will place a buy order with the amount of 100 USD every Monday. The quantity bought will change depending on if the price of the currency pair is rising or falling; if the price of the currency pair is falling, the amount bought will change accordingly.
However, DCA is not a perfect strategy and is not suitable for most people. Applying the DCA can result in more losses if you only placed one order in a volatile Forex market where currency pair prices are constantly changing. Therefore, using DCA in Forex needs to be carefully considered and depends on the investment strategy of each person. Trading EA DCA by FXCE Giga is also an option that you can refer to.
Create EA by FXCE Giga 
With EA DCA by FXCE Giga, trading is completely automated and very simple. Creating an EA will no longer be too difficult. Can you believe that configuring EA only takes five minutes? It's possible with FXCE Giga. This is considered an optimal solution for those who do not know how to code. You just need to click and choose the terms that suit your strategy.
No matter what trading method you follow, you can create EAs with corresponding functionality. Configuring the EA DCA by FXCE Giga is no exception. Here is a guide to creating EA with FXCE Giga that anyone can install.
Download FXCE Giga
Download FXCE Giga latest version here.
To install FXCE Giga into MT5, copy the FXCEGiga.ex5 file into the /MQL5/Experts/ folder
See details on how to install EAs or Indicators into MT5: FXCE: EA | Lesson 1.1: Download - Install - Launch GigaFactory.
To download MetaTrader 5, please visit the link: https://www.fxce.com/page-platform 
Create EA by FXCE Giga
How to create EA using FXCE Giga in a simple way? Follow the steps below, you will set up the EA easily:
Insert your Indicators into the current chart.

Insert the EA from FXCE Giga in the same chart as the Indicators you added.

Create your new EA system in FXCE Giga by entering the EA Name (e.g. XYZ) or use the File > New menu to create a new trading system.

Set your entry conditions in the Buy/Sell tab.

Set the conditions for calculating volume and Stop Loss/Take Profit in the Volume tab.

Set the closing conditions in the Close tab.

Click Save to save the config.

Then, for the EA to work, simply change the EA's status from Deactivated to Activated by clicking the Deactivated button.
=> Watch a video tutorial:  Tutorial set up an EA FXCE Giga
Note:
FXCE Giga is released for free by FXCE.

Any form of purchase, sale or exchange is not accepted.

FXCE is not responsible for any losses incurred during use.
EA DCA by FXCE Giga - Featured
You can create EAs with a variety of strategies by FXCE Giga. Below are some excellent EAs for those who trade with the DCA strategy.
Giga-Gold-M5 - DCA Gold on M5 using Candles and Bollinger Bands
Giga-Gold-M5 is configured on FXCE Giga by solovely (Telegram: @Anh219) - a member of FXCE - EA community based on the characteristics of Bollinger Bands and Candlesticks.
The formation of the last 2 candles to Bollinger Bands creates an entry signal and DCA by a multiplier of 1.8 if the price moves in the opposite direction.
You can follow the trading results of Giga-Gold-M5 in real time on the FXCE Social Trading Platform here.
If you are interested in this EA DCA by FXCE Giga, you can visit here to view and download it.
DAW KDJB - DCA AUD/CAD timeframe M30 with BB and KDJ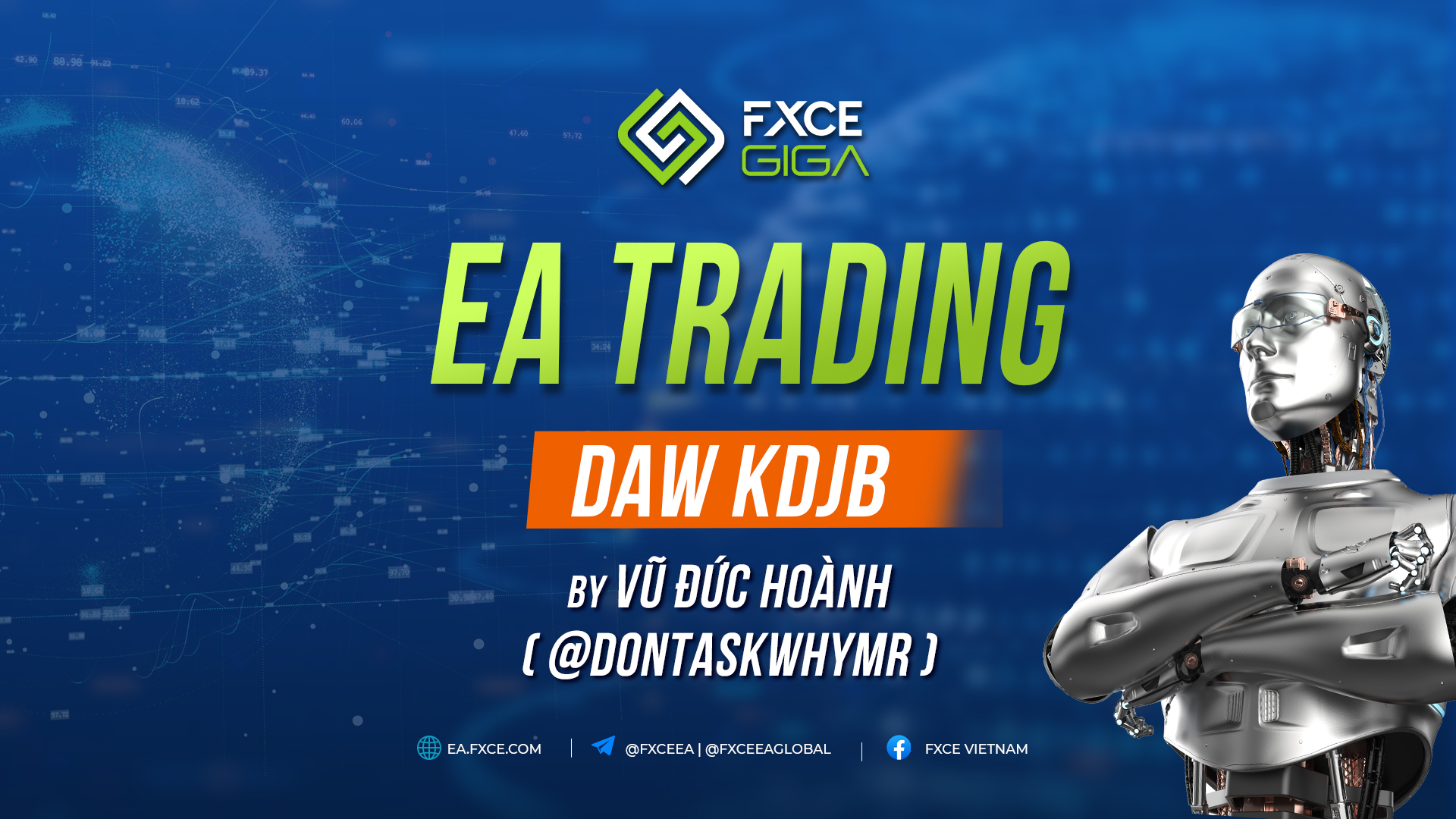 The next trader that is also quite prominent in the DCA strategy by FXCE Giga is DAW KDJ.
DAW KDJB is configured on FXCE Giga by member Vũ Đức Hoành (Telegram: @dontaskwhymr) of the FXCE - EA community through the Giga Collection program.
The EA starts DCA on the AUD/CAD pair on the M30 timeframe based on the position of the candle closing price to the Bollinger Bands and the parameters of the KDJ indicator.
See more about trading methods and backtest results here.
EA GOLD KILLER - Hunting Gold on M1 with RSI and DayTimeTrade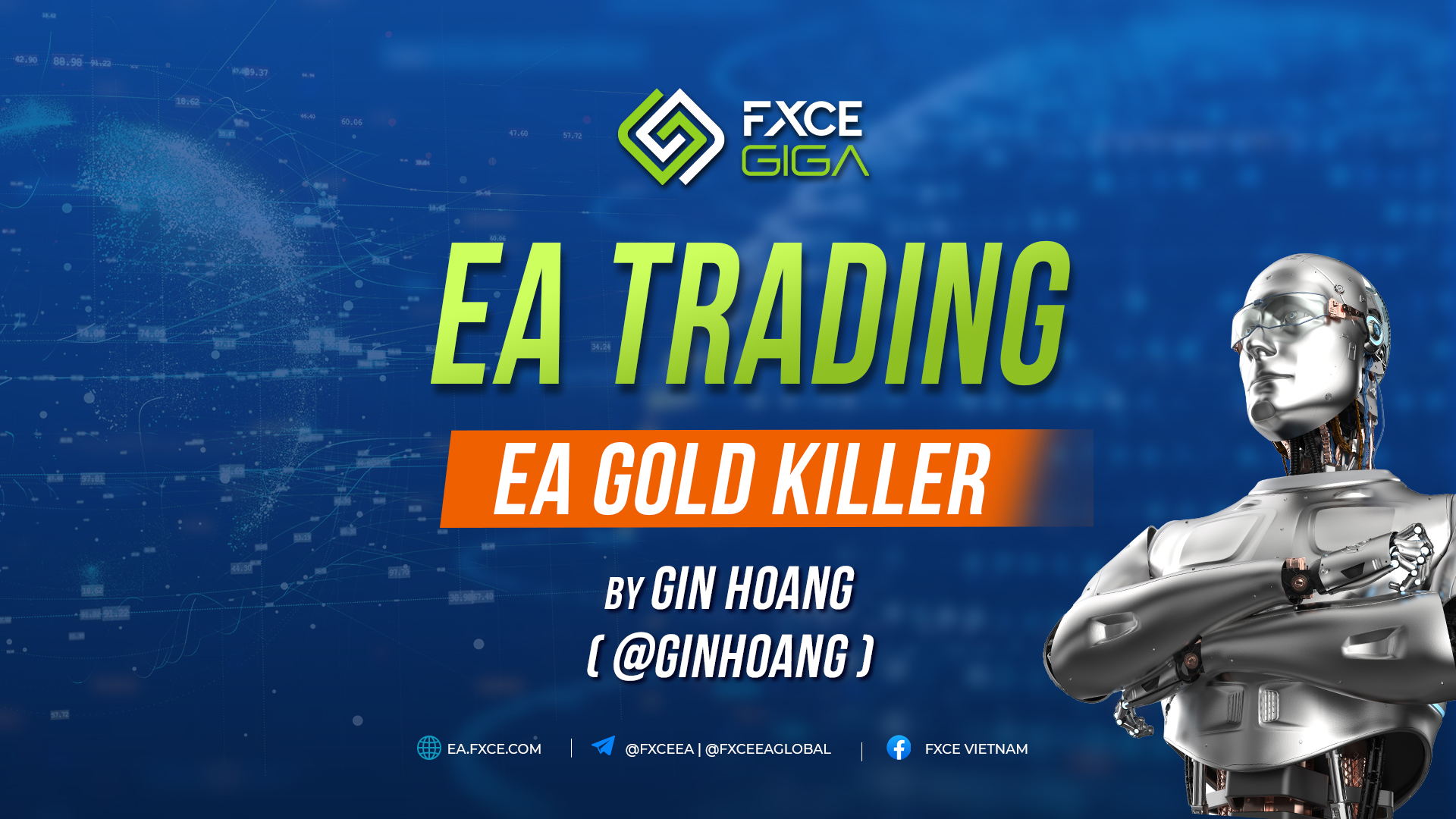 The EA with DCA strategy using FXCE Giga must be mentioned, followed by the EA GOLD KILLER created by wild gin member (Telegram: @Ginhuang) of the FXCE - EA community.
The EA uses a combination of two indicators including RSI(25) and DayTimeTrade.
RSI uses a 25 period range and the overbought/oversold zone of 72/26 on the M1 timeframe, respectively.

DayTimeTrade is used to optimize safe and efficient trading hours. Parameters have been optimized after statistics on price movement data for 3 years from 2020 to present.
If you choose XAUUSD as the favorite pair, this EA cannot be skipped. You can see more about this EA's trading strategy and backtest results here.
Giga Surfing - Swing trading M30 with SMA according to LCCM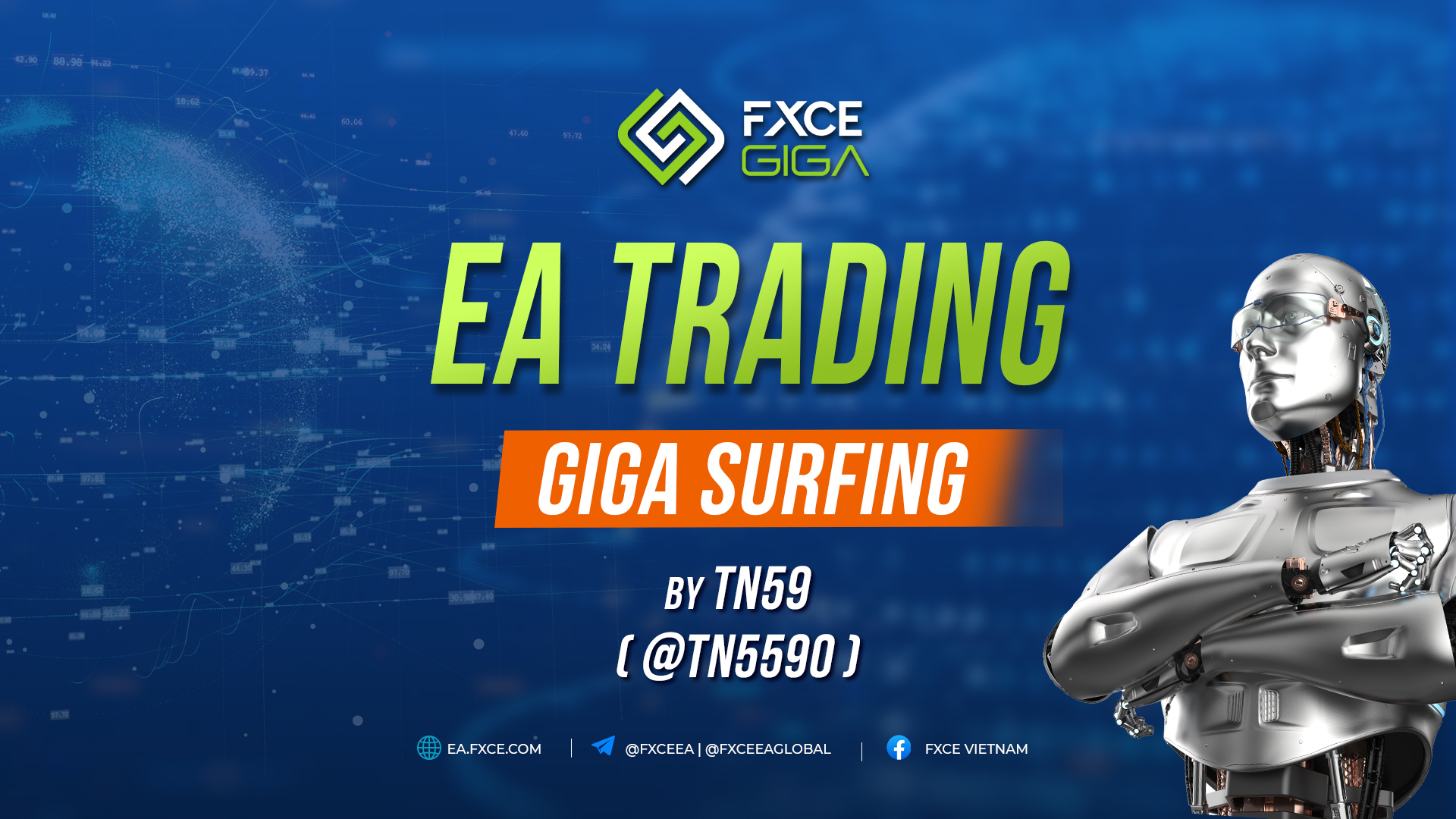 If you follow the scalping method of trading, this is the EA that you can refer to. The system is set up in line with the DCA strategy using FXCE Giga. This EA is called Giga Surfing, AUDCAD trading is configured on FXCE Giga by member TN59 (Telegram: @TN5590).
Mr Khắc Quy's dynamic non-breakout signal trading system of LCCM level 2 combined with SMA(20). The EA places orders according to signal indicator KQ_TestRS + SMA(20); If the price goes in the opposite direction, DCA will be executed, the maximum number of orders in the DCA sequence is 8 orders for one-way Buy/Sell. 
In order to maintain the capital in unfavorable market conditions, the EA will close the position when the negative status reaches $800.
In addition to the EAs following the EA DCA by FXCE Giga above, you can also find other effective EAs here.
Notes when trading EA DCA by FXCE Giga
When trading EA DCA by FXCE Giga, you also need to have a good system operation. For instance, do not allow EA to run on days with significant news. If you achieved a profit during that month, you can stop using the EA and start trading the next month.
Using EA as the main trading tool will help manage your emotions and capital. But you also need to prioritize risk management. When the market is sideways, there are small candles, that's a good time to use EA DCA by FXCE Giga more effectively, and the risk will be lower.
Conclusion 
EA DCA by FXCE Giga will certainly be a new step, paving more opportunities to optimize your strategy and profits. Hopefully, through this blog, you will collect more EAs suitable for your trading system. In addition to EA designed according to EA DCA by FXCE Giga, you can find more EAs with other strategies here. We wish you success while trading with FXCE Giga.
Comment