Multiple opportunities when trading EA by FXCE Giga
Marketing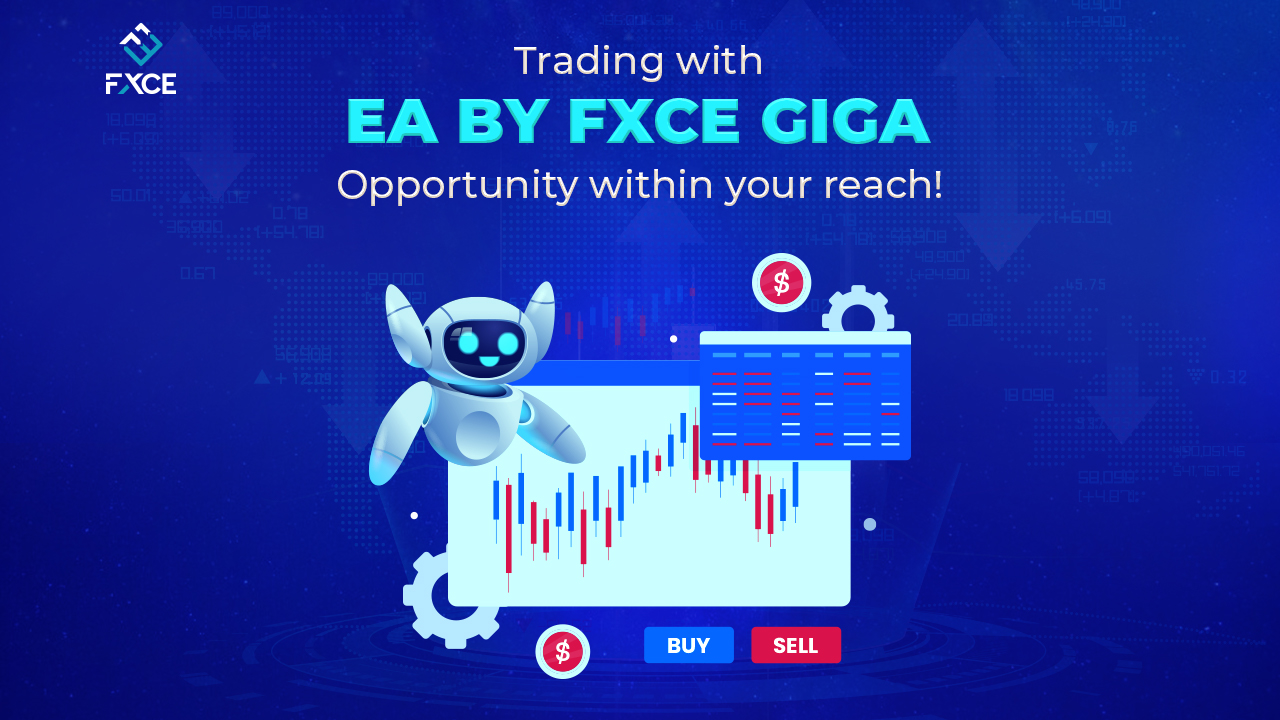 Trading EA (Expert Advisor) is no longer strange to many traders. A tool that helps traders automate the system and discover many potential positions. If you are looking for a tool to configure EA simply and quickly, FXCE Giga is the best for you. Not only is the configuration simple, but also trading EA by FXCE Giga opens many opportunities to increase your income. 
Why should traders use EA? 
EA is an automated trading system on Metaquote platforms. It finds new signals in the market, monitors or automatically executes trades by established algorithms. You will not spend a lot of time analyzing or manually performing stop loss and take profit in the traditional way.
Another advantage of EA is that many traders like to use it. That is the control of trading psychology. Thanks to the automaticity of EA that emotions do not dominate the trading process. Remove the feeling of fear and confusion when the market begins to reverse.
Since then, the problem of emotion disorders when trading has been solved. Only when you conquer yourself, master your emotions, can you win the race of the Forex market. Therefore, using EA in trading is extremely necessary. Now you can configure EA by FXCE Giga without using any code, very smooth.
FXCE Giga Overview 
What is FXCE Giga?
FXCE Giga is a solution that allows anyone to configure EA without any programming knowledge. This tool is completely free, so you can create EA as you like, unlimited.
With the aim of creating sustainable value for the community, Team EA Developer devotes many efforts to grow and make config EA by FXCE Giga simple, friendly and convenient for all traders. In addition, this tool works directly on the MT5 platform, so it takes advantage of the optimal technologies from Metaquote.
This is the destination for those who want to create EA by FXCE Giga for their trading journey. As you know, we will not be able to change the situation or change the price in the market, in any way. FXCE Giga is the solution for you to control all possible situations.
Benefits of FXCE Giga 
Good control of trading psychology
With FXCE Giga, you can create your own automated trading system with previously set conditions. When everything is kept in line, you will not fall into the situation of having to make decisions based on emotion or momentary thought. This is a common problem for many inexperienced newbies.
In other words, trading EA by FXCE Giga is an effective method to avoid FOMO. Through finding out what FXCE Giga is and its working principles, you will see that it follows a very strict set of rules so that you don't have to worry about emotion anymore. EA by FXCE Giga will do it. All you have to do is configure EA to suit each of your trading strategies. Furthermore, you can also add an unlimited number of EAs into MT5.
Efficient fund management
Fund management is one of the factors that determine the trading success of traders and investors. Choosing a suitable method in capital management is a good preparation for facing the risk and survival in the long run in this market. 
Configuring EA by FXCE Giga will be a way to assist you in setting up a system suitable for trading strategy. In which, you can set the time to enter and exit orders, identify new trends, and adjust your strategy along with the market volatility. When you create EA that matches your planned trading strategy, you will easily control your fund. 
No limitation to MT5 indicators
Established EA by FXCE Giga, you can add as many different types of MT5 indicators as you want. In addition, FXCE also provides you with an Indicator library with more than 300 types of indicators posted on the EA Blog. Applying various types of indicators gives the EA the ability to recognize market conditions, as well as identify a new trend so that it can create ideal trading signals for traders.
In addition, EA by FXCE Giga totally complies with the initial pre-input conditions for taking Stop Loss (SL) or Take Profit (TP) orders in order to manage the risk strictly and ensure. Regardless of your style and trading plan, technical analysis cannot be complete without quality indicators. Apart from the classified indicator categories, FXCE is constantly creating, adjusting and developing many other indicators. You can refer to it here. 
What is FXCE Giga's customizability? We do not limit the integration of external indicators into the system. Therefore, if the trading system has specialized signals or options that are not available on MT5, traders can request FXCE team on designing them as Indicators to integrate into the price chart. You will be supported by the Dev Team with no fee when configuring EA by FXCE Giga.
Form: Trader describes the idea - Dev Team writes the code.

Quantity: Unlimited

Product: Indicator in .ex5 file, uploaded to FXCE library.

Usage: Only works on MT5 of FXCE and partners.
EA configural solution for those who don't code
In common, creating an EA trading system takes a lot of time and effort from learning to code to the backtesting process. However, you can wrap this process up when creating EA by FXCE Giga. As long as you understand what FXCE Giga is, you can create your own EA with just a few easy clicks.
The EA team of FXCE has worked their best to improve FXCE Giga to a better version everyday so everyone can config EA by FXCE Giga in the easiest way. Just by knowing what FXCE Giga is and its mechanism, no matter if you are an expert programmer or someone who doesn't know how to code, you can access and develop your EA. Creating EA by FXCE Giga is the best solution for you. 
Download and configure EA by FXCE Giga
Download FXCE Giga 
Before configuring EA by FXCE Giga, we need to download FXCE Giga to the device.
Download FXCE Giga latest version here.
To install FXCE Giga into MT5, copy the FXCEGiga.ex5 file into the /MQL5/Experts/ folder
See details on how to install EAs or Indicators into MT5: FXCE: EA | Lesson 1.1: Download - Install - Launch GigaFactory
To download MetaTrader 5, please visit the link: https://www.fxce.com/page-platform
Configure EA by FXCE Giga 
Once you have successfully configured EA by FXCE Giga, you need to go through the backtest phase before trading with real money. The backtesting process is performed after completing the EA configuration steps. This will help you to check and optimize the settings and parameters. The following are a few criteria to evaluate the effectiveness of EA.
Important parameters and standards
We can evaluate EA based on the number of trading months that gain profits beyond the maximum equity drawdown; the lower this number, the better.
Assuming EA by FXCE Giga can earn an average profit of 3% per month but the risk of loss is up to 15% then this is an ineffective EA as the opportunity cost is too high. Loss can ruin the result that was made before. On the contrary, if the profit is 3% but the drawdown is only 2.5%, recklessly, there is a mistake, then after a period of time, the EA is still reach profit.
Drawdown recovery period

(EDD *Number of month Backtest / Total Net Profit)

Status

2.5 tháng

Very good

3.5 tháng 

Good

6 tháng 

Pass
Parameters and criteria worth keeping in mind in the backtest include:
History Quality ≥ 99%: The backtesting process is accurate and does not omis price data.

Profit Factor ≥ 1.5: This number needs to be at least 1.5 because it is a good signal that the trading EA has higher profits than losses.

EDD ≤ 15% x Total Deposit: Ensure there is no uncontrollable chain of orders with serious losses.
You need to do a backtest for a period of at least 2 years. The longer the backtest period, the more complete the EA's ability to work is demonstrated. 
Backtest process of creating EA by FXCE Giga
After config EA by FXCE Giga, EA config file has been saved, FXCE Giga also automatically saves the template chart into 2 files: 
file named "EA Name.tpl'' (so that next time you load the correct template file corresponding to the config file).

file named tester.tpl to use for the Backtest.
In case the EA was previously created, you must load the saved template before running FXCE Giga. This template has enough necessary indicators of your EA configuration you want to load. When you upload the EA config file, FXCE Giga automatically records the template tester according to the corresponding chart template.

Open the backtest option from FXCE MT5's View > Strategy Tester menu (or press Ctrl+R) and select Visualize.

4. In tab Setting, choose GigaFactory.ex5 in the bar Expert.
Select currency pair in bar Symbol to trade,

Choose a trading timeframe.

The bar Date should select Custom period, then select at least 2 years.

Tick on the box "visual mode with the display of charts, indicators and trades".

Since all the parameters in tab Inputs of the EA are already set and saved in the config file, you do not have to make any adjustments there, unless you want to enable the Print Log function to check the entry/closing order conditions during the signal testing.
5. Click the Start button
Note: If you edit the EA configuration while the backtest is running, you have to run the backtest again. The new backtest will read the new config file and run according to the corrected configuration.
If it is the first time you are running the backtest, you must enable the options that allow the DLL to be imported into MT5. Go to Tools > Options menu, in the Options window select the Expert Advisors tab and set up as shown below: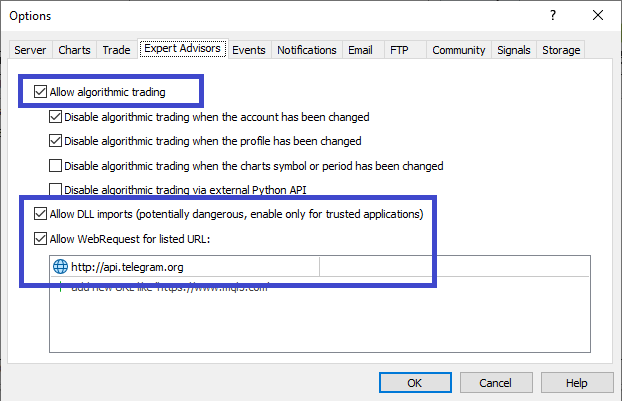 Get donation when contributing EA by FXCE Giga 
Overview
Beside a large number of EAs from FXCE, we are always encouraging the community to contribute to the EA Library so that it can be more abundant everyday. This helps to improve the efficiency of automated trading in our ecosystem and together we can establish long-term value.
That is why FXCE has launched the Donate feature right on the EA Blog. The place you can share your quality EA by FXCE Giga to the community and get donations from FXCE. If your EA is approved, you will receive 5 FXCE coins (worth 1000$FXCE). In addition, you also have the opportunity to receive more donations from readers in the ecosystem.
EA Approval Conditions
You must ensure that your EA is configured using FXCE Giga and has completed the backtest phase. Then, write a detailed introduction to the EA and evaluate the results after the backtest period. Finally, send it to Team EA FXCE for review and receive a donation.
After the backtest phase, the author also needs to meet the evaluation criteria including:
Drawdown recovery period: EDD * Number of Backtest months / Total Net Profit < 6 months

History Quality ≥ 99%

Profit Factor ≥ 1.5

Equity Drawdown ≤ 15%
Passing these above conditions, you get a chance to receive a donation. Creating EA by FXCE Giga cannot be that interesting before you can both enrich the trading system and have more tips. Start it now!
Typical EAs by FXCE Giga 
Through the Giga Collection program, we have received many quality EAs by FXCE Giga. The following can be followed:
HTV-B35R20 - Harmonious combination of RSI and Bollinger Bands
Introduce
HTV-B35R20 is configured on FXCE Giga by member Hoang Tram Vo (Telegram: @wind1239) of FXCE - EA community based on DCA with RSI and Bollinger Bands.
HTV-B35R20 trades AUDCAD according to the movement of the last two candles correlated with two indicators including Bollinger Bands (35) and RSI (20).
Users can follow the trading results of the HTV-B35R20 in real terms on the FXCE Social Trading Platform here.
Backtesting results
The EA backtested under the following conditions:
Backtest period: 01/01/2020 - 01/12/2022

Backtest settings


DCA CCI M15 - DCA XAUUSD according to MA and CCI
Introduce
DCA CCI M15 trading XAUUSD configured on FXCE Giga by member Leica (Telegram: @quynhnhu0151) of FXCE - EA community.
The EA trades according to the signal that combines the two MA lines (40.80) and the CCI indicator on the M15 timeframe. In case the price goes in the opposite direction, the EA manages orders using DCA algorithm for up to 4 orders.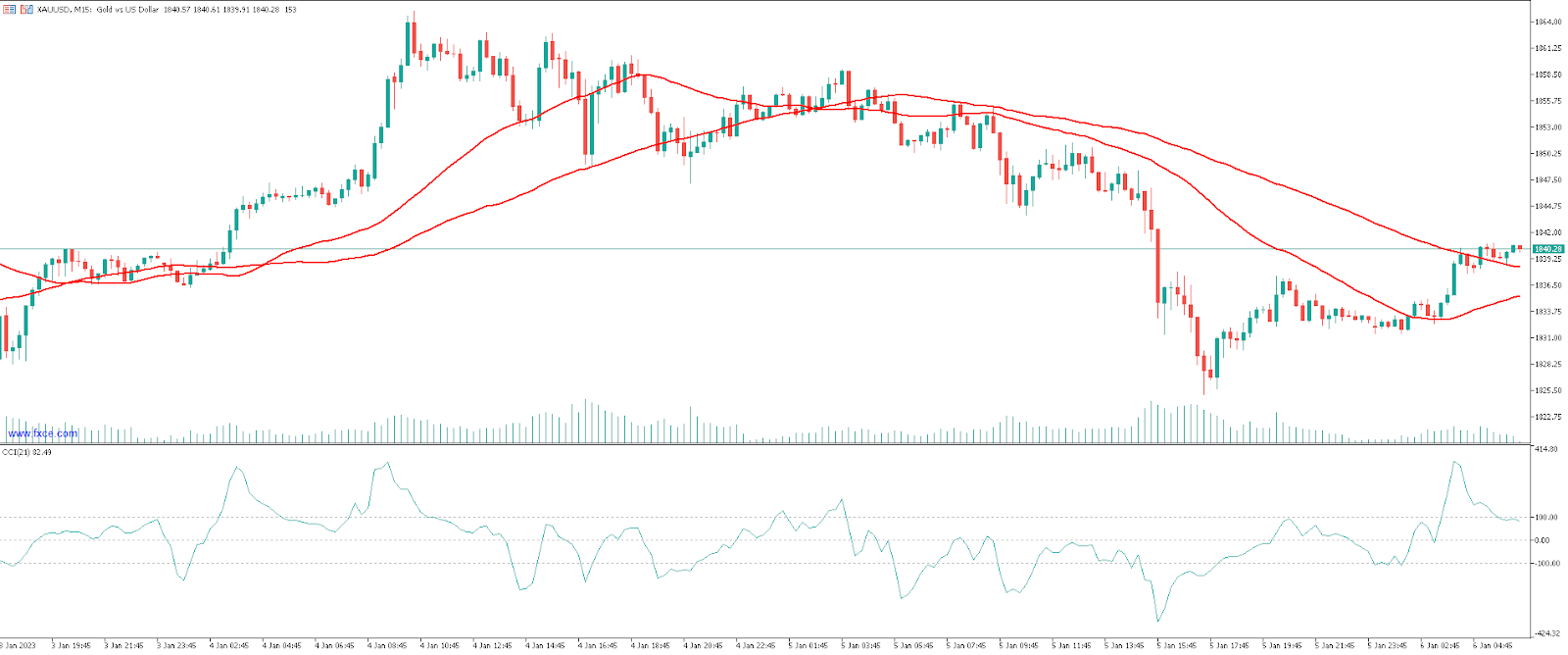 DCA CCI M15 on MT5
DCA CCI M15 has started the Forward Test, users can follow the trading results on the FXCE Social Trading Platform here.
Backtesting results
The EA backtested under the following conditions:
Backtest period: 01/01/2020 - 31/12/2022

Backtest settings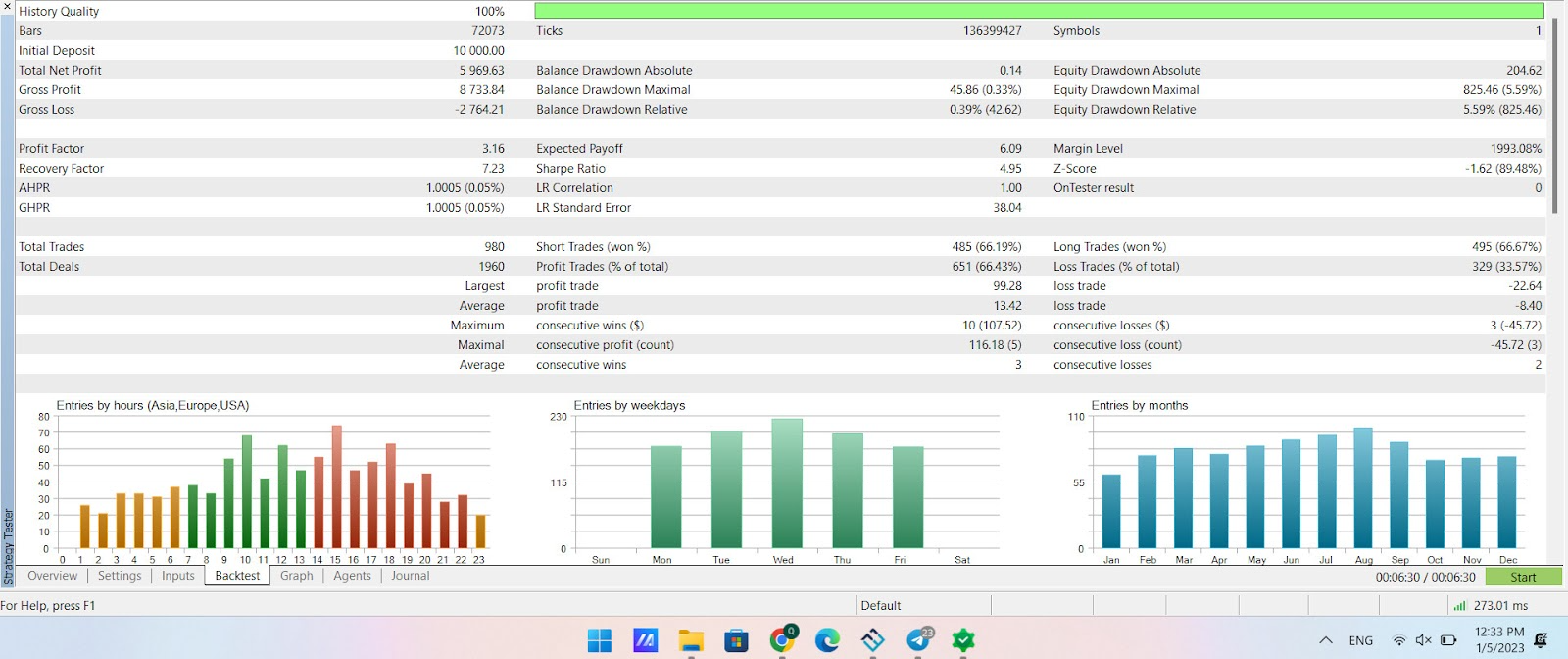 E.I.T-EA-MA-H4 - DCA with Trailling Stop based on MA30
Introduce
E.I.T-EA-MA-H4 is configured on FXCE Giga by member Quang Duc (Telegram: @DucNguyen93) of the FXCE - EA community through the Giga Collection program.
The EA will place the first order in favor of the trend based on two indicators ADX and MA.
The DCA process will begin when the price goes the opposite direction of the original order for every 100 points and the profit chain is $10. To be on the safe side, the EA will close all orders if P&L is less than $100.

E.I.T-EA-MA-H4 on MT5
The EA has been forward test on FXCE Social Trading Platform, users can track it here.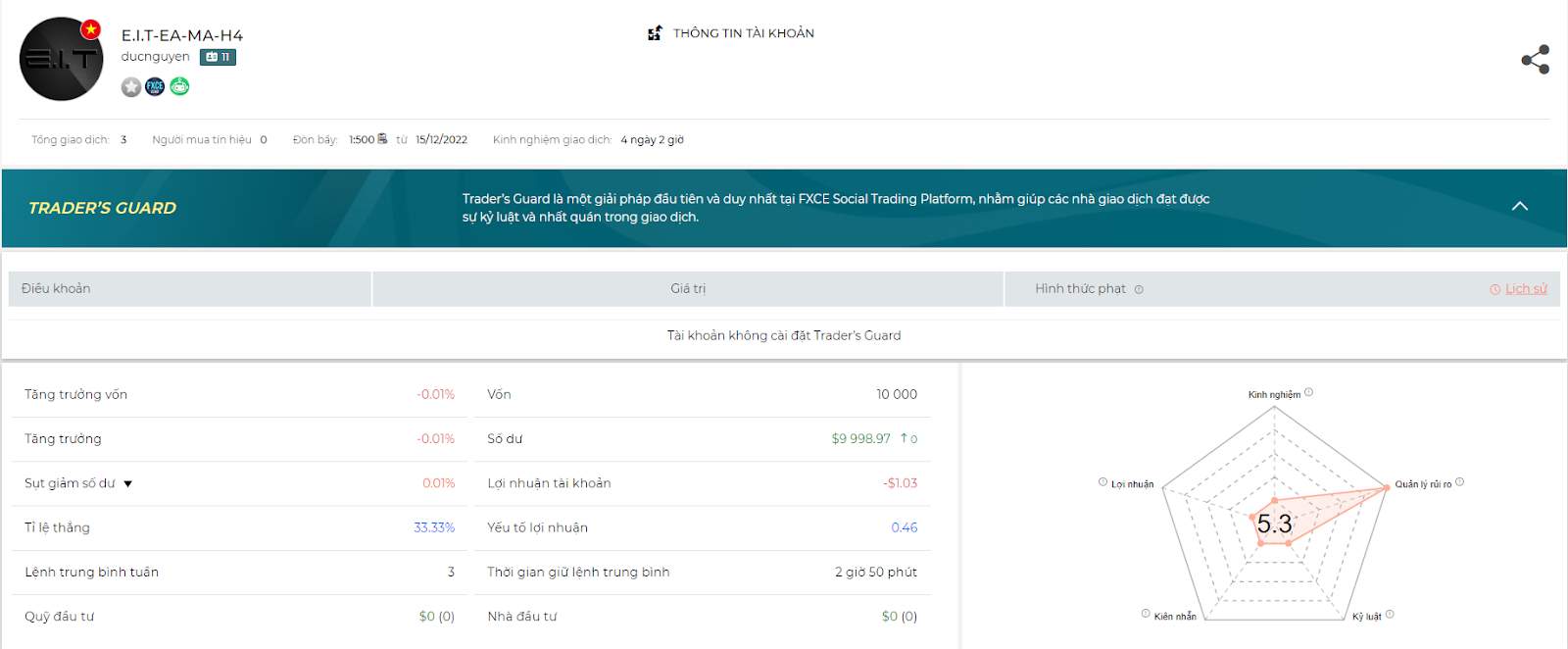 Backtesting results
The EA backtested under the following conditions:
Backtest period: 01/01/2020-14/12/2022

Backtest settings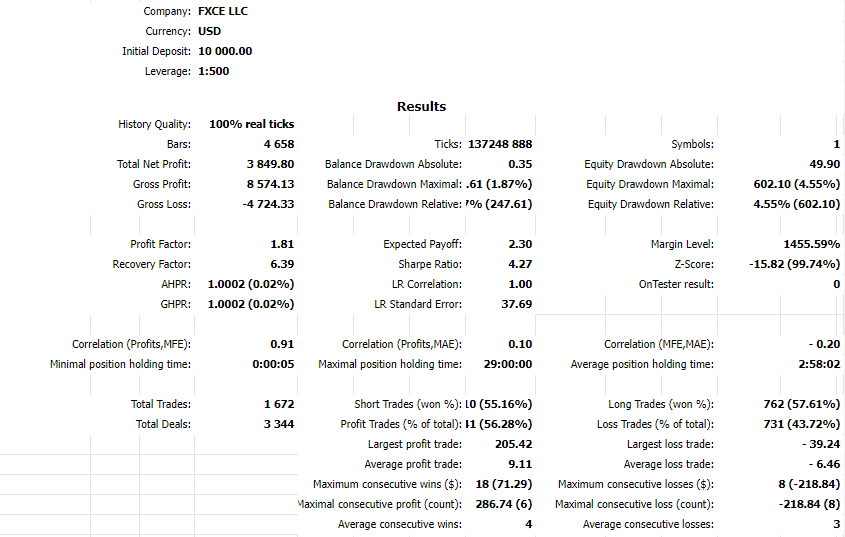 Learn more about EA by FXCE Giga here. 
Conclusion
Trading EA by FXCE Giga will open countless opportunities. It is not only a powerful tool to find good positions, but also you can get donations for contributing quality EA.
Using EA by FXCE Giga is creating an opportunity for yourself, opening a new path for the trader. Take advantage of the benefits that EA brings, you will maximize the profit you can achieve. Good luck with your trading!
Comment